Government and regulatory affairs lawyer James J. Eisenhower a regular commentator on weekend political show on Philadelphia's WPVI.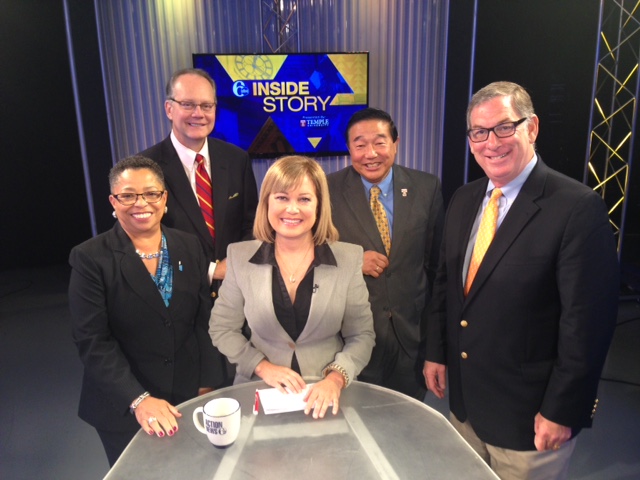 PHILADELPHIA (September 2015) – Pennsylvania regulatory affairs and white collar criminal defense lawyer, James J. Eisenhower, of national law firm Chamberlain, Hrdlicka, White, Williams & Aughtry, is set to appear on 6abc's "Inside Story" to discuss hot local political topics, from embattled PA attorney general Kathleen Kane to the pending visit to the city by Pope Francis.
Inside Story will air on 6abc on Sunday, Sept. 20. A distant relative of former President Dwight Eisenhower and active in Pennsylvania government and politics, Eisenhower is a regular commentator on the political talk show.
"Political debate and discussion remain vitally influential when it comes time to set public policy, policy that affects all of us, every day," Eisenhower said. "'Inside Story' and similar political and news shows give me a platform on which to share the insight that I have built over the decades that I have devoted to government and politics. That is personally very rewarding for me, but even more importantly, I hope it offers inspiration for the next generation of public servants."
A two-time candidate for Attorney General of Pennsylvania, Eisenhower has spent a lifetime in public service in city, state and federal settings. He chaired the Pennsylvania Commission on Crime and Delinquency, the Commonwealth's largest criminal justice agency, from 2003 to 2004. In 2005, former Gov. Ed Rendell appointed Eisenhower to the Pennsylvania Intergovernmental Cooperation Authority (PICA), which oversees Philadelphia's budget, and he served as board chairman from 2007 to 2011. At the federal level, he served as Director of the Office of Global Affairs, National Security Council, during the Clinton administration when he served on the staff of National Security Advisor Anthony Lake.
Now in private legal practice, Eisenhower puts that insider knowledge to work representing public officials in federal and state ethics investigations, counseling candidates on campaign finance matters, and advising clients as they face sometimes complex and time-consuming directives from government and regulatory agencies. He also is deeply knowledgeable about civil rights matters, insurance fraud, political corruption, and international criminal law.
Eisenhower was a federal criminal prosecutor in the U.S. Department of Justice's Civil Rights Division, and an Assistant United States Attorney in the Eastern District of Pennsylvania, before entering private practice. He was a partner at Montgomery, McCracken, Walker & Rhoads until 2002, when he joined Ballard Spahr as a partner in the litigation department. He joined Chamberlain, Hrdlicka, White, Williams & Aughtry in February 2015.