Practice Areas
Education
University of Texas at Austin, B.S., 2004
South Texas College of Law, J.D., 2007
Honors
Texas Bar Foundation - Life Fellow
Selected as a "Leading Lawyer in Texas" by Leaders In The Law
Recognized as a Texas Super Lawyers "Rising Star." No more than 2.5% of attorneys in Texas receive this distinction, 2016-2021
Named a "Top Lawyer in Houston" by H Texas Magazine, 2015-2020
Dean's Honor List
Phi Sigma Theta—National Honor Society
Paul and Mary Haas Scholarship Recipient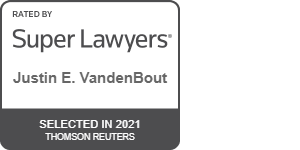 Bar Admissions
Texas
Court Admissions
United States District Court, Western District of Texas
United States District Court, Eastern District of Texas
United States District Court, Northern District of Texas
United States District Court, Southern District of Texas
Profile
Justin VandenBout is a trial lawyer who maintains a nationwide litigation practice with an emphasis on commercial litigation and complex insurance coverage litigation. He has successfully represented both Plaintiffs and Defendants in federal and state courts throughout the United States in matters ranging from intellectual property disputes, catastrophic personal injury, products liability, professional liability, construction, and breach of contract matters.
Mr. VandenBout has trial experience representing both Plaintiffs and Defendants in a variety of cases, including business partnership disputes, personal injury, property damage, intellectual property, and commercial litigation. In addition, Mr. VandenBout has successfully prosecuted and defended injunction proceedings on behalf of clients in both state and federal court.
Outside of the courtroom, Mr. VandenBout counsels clients on their overall insurance program in an effort to minimize gaps in insurance coverage and uninsured business risks.
Mr. VandenBout's skill and advocacy on behalf of clients has consistently earned him recognition as one of the top lawyers in Texas in the areas of commercial litigation and insurance coverage.
Mr. VandenBout's exposure to a wide variety of litigation makes him well suited to represent clients in a range of matters from the onset of the dispute through trial.
Representative Matters
Lead trial counsel in a federal trademark infringement lawsuit on behalf of client, Stockdale Capital Partners, LLC, wherein the Firm obtained a unanimous defense jury verdict against claims of unfair competition and trademark infringement.
On multiple occasions, Mr. VandenBout has successfully represented clients that sustained significant economic losses obtain verdicts at trial that were more than 10 times the amount offered by the respective Defendants prior to trial.
Serves as national insurance coverage counsel for the largest independent brine producer in the United States, which includes assistance in securing insurance coverage and prompt payment of claims that total in excess of $150 million related to a catastrophic loss in 2012.
Successfully prosecuted a Petition to Enforce Settlement Agreement on behalf of a client which affirmed payment to client in excess of $20 million as well as continuing payments under the Settlement Agreement.
Obtained take nothing final summary judgment on behalf of Beazer Homes, a national residential home builder and property developer, in connection with a catastrophic personal injury lawsuit.
Served as trial counsel in obtaining defense verdicts on behalf of separate clients in cases involving a business partnership dispute and negligence/property damage litigation.
Successfully defended Instrumentation and Electrical contractor in the oil and gas industry against claims by a midstream provider for breach of contract and fraud in excess of $7 million, which resulted in no payment being made or owed by client. In the same litigation, Mr. VandenBout prosecuted counterclaims and third party claims for breach of contract and tortious interference with contract that resulted in payments in excess of $1 million being paid to client.
Successfully represented various clients in multi-million dollar complex insurance coverage litigation including representing a national leader in the management of multi-family properties in connection with the prosecution of claims against client's insurer for breach of contract, bad faith and various insurance code violations based upon insurer's adjustment and delay in payment of property and business losses sustained by client's five luxury properties in the Houston area that were damaged by Hurricane Ike. Mr. VandenBout's representation resulted in securing insurance coverage for the client and a multi-million dollar settlement compensating his client for its losses.
Obtained dismissal with prejudice of Chinese manufacturer in wrongful death product liability action based on Special Appearance and Plea to Jurisdiction.
Lead counsel in successfully prosecuting hotly contested insurance coverage lawsuit on behalf of a former CEO and CFO of a water treatment technology company who were sued in an underlying lawsuit for alleged misrepresentations made in their capacity as directors and officers of the company. The D&O insurer initially denied coverage for the claims in the underlying lawsuit (both defense and indemnity), but after litigating the issue in federal court, the insurer ultimately agreed to defend and indemnify the insureds resulting in hundreds of thousands of dollars of insurance proceeds recovered by our clients.
Lead counsel in obtaining dismissal with prejudice of all claims against local doctor and his practice relating to alleged breach of multi-party advertising agreement.
Lead counsel in securing dismissal with prejudice of Mexican law firm in a lawsuit brought in Harris County, Texas seeking damages in excess of $1 million based on successful Special Appearance on grounds of lack of personal jurisdiction.
Publications and Presentations
CYA 2020 – Contracts and Insurance to Cover Your Assets, Presented at 2020 CHWWA Annual Tax and Business Planning Seminar
Business Interruption Insurance & COVID-19's Impact on Business Contracts, Presented at 2020 Austin CPA Society Meeting
Top Legal Traps for Opening Up Your Business in a Pandemic, Presented at 2020 San Antonio CPA Society Meeting
Hurricane Harvey: Advising Clients Through the Flood of Legal and Tax Issues, Presented at Chamberlain Hrdlicka 40th Annual Tax and Business Planning Seminar, November 16, 2017
Captive Insurance Companies: The Do's And Don'ts (Or Something Else), Presented at Chamberlain Hrdlicka Annual Tax and Business Planning Seminar, November 16, 2015
Deep Impact – Why the In re Deepwater Horizon Opinion Matters for Construction Contracts and Additional Insured Insurance Coverage, The Critical Path, June 2015
Contractual Forum Selection Clauses in Texas – Things Are Not Always As They Appear.
Section 18.091 of the Civil Practice & Remedies Code – Presentation and Proof of Damages Net of Federal Income Tax Liability.
Professional Affiliations
State Bar of Texas
Houston Bar Association
Fort Bend County Bar Association
American Bar Association
News
News
Texas Super Lawyers names Chamberlain Hrdlicka Attorneys to 2021 List

Super Lawyers names Chamberlain Hrdlicka Attorneys at 2021 Texas Rising Stars

Quote by Justin VandenBout on "Limit Your Liability: Planners Must Know How To Protect Themselves In A Post-Covid Environment"

Insurance & Financial Meetings Management

,

March 2, 2021

Virtual This Year! Chamberlain Hrdlicka Virtual Annual Tax and Business Planning Seminar is November 10-12, 2020

Data Security & Privacy Practice launches at Chamberlain Hrdlicka

Super Lawyers names Chamberlain Hrdlicka Attorneys as 2020 Texas Super Lawyers

Sebastien Chain, Justin VandenBout and Jaime Vasquez named 2020 Rising Stars

Law360

,

November 22, 2019

Law360

,

November 12, 2019

Attorneys from Five Practice Areas Received the Recognition

Attorneys from Six Practice Areas Received Coveted Recognition

Attorneys from Six Practice Areas Receive Coveted Recognition
Presentations
Seminars & Presentations
Free Webinar on New Legal Considerations for Opening Up Your Business During a Pandemic

Online Webinar

,

June 11, 2020

Free Webinar on Top Legal Traps for Opening Up Your Business in a Pandemic

Online Webinar

,

June 3, 2020

Free Webinar on Top Legal Traps for Opening Up Your Business in a Pandemic

Online Webinar

,

May 28, 2020

Free Webinar on Top Legal Traps for Opening Up Your Business in a Pandemic

Online Webinar

,

May 21, 2020
CYA 2020 – Contracts and Insurance to Cover Your Assets, Presented at 2020 CHWWA Annual Tax and Business Planning Seminar
Business Interruption Insurance & COVID-19's Impact on Business Contracts, Presented at 2020 Austin CPA Society Meeting
Top Legal Traps for Opening Up Your Business in a Pandemic, Presented at 2020 San Antonio CPA Society Meeting