Our People
Events
Atlanta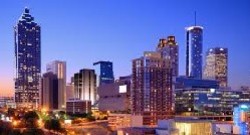 191 Peachtree Street, N.E.
Thirty-Fourth Floor
Atlanta, GA 30303

Tel: 404.659.1410
Fax: 404.659.1852

Atlanta: Office Information
In 1986, Chamberlain Hrdlicka opened its Atlanta office. Consistent with the firm's roots originally charted by founding partners Hank Chamberlain and George Hrdlicka, the Atlanta practice began with an emphasis on tax controversy and litigation with the relocation of David Aughtry from Houston to the newly opened office.
Over the last decade, we have experienced dynamic growth in our Atlanta office in tax controversy and litigation as well as several practice areas. With nearly forty attorneys resident in Atlanta, we service a growing market of public and private companies, individuals and family owned business in Georgia and across the United States in various practice areas including: tax and estate planning, construction law, real estate, corporate securities and finance, business and commercial litigation and bankruptcy.
Tax law remains our core strength. We have tried more tax cases than any other firm in the South. Whether we are engaged at the beginning of a controversy, or called in after other attempts at relief have failed, we know how to explore every approach to achieve the best resolution. Our tax group includes many lawyers who are board certified in tax law, hold advanced degrees in tax law, are certified public accountants, or have worked as in-house tax counsel for large multi-national corporations. We are frequent speakers at continuing education programs for lawyers and accountants throughout the country and internationally, and a number of our lawyers either teach or have taught tax courses at leading law schools.
Our tax planning and controversy clients include a wide range of privately held businesses, public companies, individuals, trusts, estates, and tax-exempt organizations. We routinely guide transactions through the most complex and difficult tax rules. Many of our lawyers devote all or substantially all of their practice to representing taxpayers in tax controversy matters before the IRS and state taxing authorities, as well as in the federal and state courts. This gives us first-hand experience with how government agencies and the courts interpret and enforce the tax laws, and we apply this unique knowledge to the benefit of all our clients. If you need help defending yourself against the IRS, or other governmental agencies, we have the battle-tested experience and skill needed to advance your cause.
Our estate planning and administration group is one of the largest and most accomplished in the South. Our expertise in tax and business issues is the perfect foundation for the estate plans we develop for individuals, families and business owners. We understand how the system works, and we know how to structure plans that take full advantage of every nuance of the tax code. Knowing the law is not enough. Our estate planners work to understand your objectives in order to frame their recommendations accordingly. Every individual has a different perspective, different needs and different goals. We believe that imposing any type of "formula solution" is unfair to you and your family members. If you own a business, we take the necessary steps to ensure continuity and value for family members, shareholders, employees and customers.
In 1997, our corporate, securities and finance practice joined the Atlanta team and has been engaged in significant matters representing both public and private companies as well as banks and financial service organizations. Our clients represent the entire spectrum of business entities, as well as the individuals who own and operate those businesses. We regularly handle diverse and complex legal matters, including initial public offerings and secondary offerings of equity and debt securities; private placements; mergers and acquisitions; venture capital financings; leveraged buy-outs; roll-up consolidations and other business combinations; strategic alliances; supply chain management; and ongoing corporate governance and securities counseling.
Our litigation team has substantial experience managing complex business litigation, condemnation/land use and bankruptcy. We bring you into the process, so that you can stay informed and influence the way events play out. A part of our job is to dispel myths, minimize guesswork and focus on the realities. Making the client a partner in the process helps us accomplish two goals: First, we reduce the chance for "surprises" that can derail even the best trial strategies; and, secondly, we stay closely in touch with your tolerance for both the direct and indirect costs being incurred. Good partnerships rest most solidly on a foundation of open, honest communication, and it is our goal to make that a fundamental part of how we work to get a dispute resolved.
Our commercial real estate lawyers also joined us in 1997 and are the perfect choice for clients with real estate assets or developments in the South and Southwest. Name your project: apartment complex, shopping center, resort development, office building. If it involves real estate, we can help you be off and running with speed and efficiency. Rather than shunting work to junior associates, our practice is built around senior lawyers who have strong real estate backgrounds and who can become part of your development team. Our skill pays off in strategies and actions that are targeted to meet your goals. When the inevitable obstacle arises, we know how to keep it from becoming a deal-breaker. Clients can turn to us with a challenge and be confident we will respond with solutions that merit attention, consideration and action.
Finally, our construction law group joined us in 2006. The Atlanta office now has six lawyers who have a thorough knowledge of the law and have extensive experience with construction defect claims, contract disputes, extra work claims, extended term claims, delay and disruption claims, acceleration claims, and claims for lost labor and equipment productivity. Our lawyers know the construction industry and are in tune with the many diverse legal and business issues that our clients face. They regularly utilize all varieties of alternate dispute resolution, including mediation, dispute review boards, structured negotiations and other creative approaches to resolve complex disputes fairly and efficiently.